With over 4.5 billion social media users worldwide, it's no surprise that businesses must be active on social media to engage with their audience.
However, merely being present on social media is insufficient; marketers must use social media analytics to ensure that they provide content with the highest return on investment. Social media analytics and reporting provide your company with the finest opportunity to create engaging content that regularly has a positive influence on your bottom line.
Social Media Analytics
Social media analytics is the practice of analysing data from social discussions in order to comprehend and apply it.
Tracking discussions and measuring campaigns are examples of this type of analysis. It also entails determining how your social actions affect your commercial performance. To acquire a holistic picture of the customer experience, the greatest brands routinely mix social media analytics with customer commentary from surveys, ratings and review sites, call centre agent notes, and other customer input.
Businesses who are serious about enhancing customer experience employ data from social media analytics tools since it provides an important insight into how customers truly feel about the experience. The insights assist them in improving the customer journey mapping and guiding corporate decisions and strategy.
It should be emphasised that for some people, social media analytics is primarily concerned with operational metrics related to their social media platforms. Marketing professionals frequently analyse social media analytics for campaigns and initiatives that use social media.
Importance of Social Media Analytics
Social media analytics assist marketers with a variety of activities, including informing strategy and developing campaigns and content ideas. The following are some of the most significant advantages that tracking social analytics can provide.
Comparing With Competitors
Without a comparison to competitors and industry benchmarks, there is no use in appreciating excellent performance. Appreciating specific criteria is merely self-serving and does not establish a basis for gauging actual achievement.
Because context is so important, businesses need to compare their performance to that of their competitors as well as to industry and regional averages in order to truly gauge their success.
Benchmarking consistently yields valuable information and lets you compare your performance to industry or regional averages, as well as how you perform versus the competitors.
Value perception
The total customer assessment of your brand's product or service and whether or not it can meet their needs is referred to as value perception. Perceived value is critical in shaping demand and, in some cases, the price point of a product or service. Customers, for example, will not be prepared to pay much for your goods if it has a poor value.
Value perception can be measured by employing social listening tools and watching the analytics and data from dashboards such as Google Analytics. This can assist drive your strategy and influence the material you develop in order to increase value perception and demonstrate how your product or service can address major pain areas.
Feedback on Marketing Impacts
Social media analytics provide you with real-time insight on how your business is performing across social media channels and whether the plan your teams are implementing is beneficial. Keeping track of performance KPIs is critical to the success of any social media marketing.
If your plan isn't working, your data analysis will put you in the proper direction so you can make successful strategy changes before performance deteriorates or becomes a serious issue.
Detailed overviews also enable anyone in the business to quickly and easily access the most relevant metrics and analyse marketing success, ensuring that everyone is working with the most up-to-date data.
Defining Objectives
Social media analytics can be a big help when you're trying to figure out what works on social media. They can tell you which posts or content your audience likes the most. This information is super useful because it can guide you in setting realistic and achievable goals for your social media.
For example, if you find that people really like your how-to videos, you might set a goal to make more of those. Whether your goal is to get more people to know your brand, bring more visitors to your website, or get people talking to you online, social media analytics can show you what's likely to work. It's like having a map to help you get to your destination.
Types of Social Media Analytics
1. Audience Analytics
Audience Analytics assists you in identifying the demographics that your audience is reaching and guarantee that they correspond with your intended audience. If not, you might need to modify your content approach in order to better reach your target audience.
2. Predictive Analytics
Predictive Analytics means that in order to forecast future behaviours and trends, a significant amount of social media data must be analysed.
3. Ads Spending Analytics
Spending on advertising is a big deal. Ineffective content may become an expensive issue if targeting and content aren't done correctly. More sophisticated analytics techniques can frequently identify the content that will perform best and be a less hazardous use of marketing funds.
It is important to track success across all social media accounts, including LinkedIn ads, Facebook sponsored posts, and Twitter analytics.
4. Competitor Analytics
It's equally important to discover how your rivals are performing on social media. What is the number of their followers? What percentage of them are engaged? What percentage of users appear to interact with each of their posts?
After that, you may contrast this data with your own to evaluate how you compare and to see whether increasing engagement would be feasible given your objectives.
5. Influencer Analytics
Many social media marketers work with social influencers as part of their campaigns to get an advantage over rivals in a crowded market. Measuring important indicators is vital to make the most of collaborations and make sure that influencer marketing is accomplishing its objectives.
Influencer campaigns can be successful if the relevant indicators are identified with the help of social media analytics.
6. Descriptive Analytics
Descriptive Analytics mostly focuses on obtaining and summarising social media data to comprehend an issue or circumstance. We now feature reports and visualisations.
These can be used to quickly determine the answer to any query pertaining to business.
Tracking Social Media Analytics
In this section we will see the steps which are essential to track social media performance. For this work you can take help of various social media analytic platforms or tools.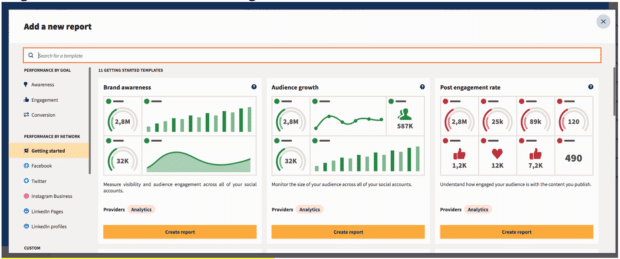 1. Select a Platform or Tool
When it comes to efficiently tracking social media analytics, your choice of analytics solution is critical. Choose a complete platform that meets your specific requirements.
Consider features that provide cross-platform tracking, real-time statistics, and in-depth analysis. Check that it allows you to adjust metrics and reports to meet your business objectives. Below we have listed our top social media analytics tools recommendation.
2. Setting up Tracking Parameters 
Setting up tracking parameters that are aligned with your business goals is the first step in effective social media analytics tracking. Define the key performance indicators (KPIs) that are most important to your specific goals.
Whether you're tracking engagement, reach, views, click-through rates, or conversion rates, make sure your metrics are explicit, measurable, and relevant to your goals.
3. Monitor Your Competitors
Include your primary competitors in your analytics tool. You can learn about their strategy and performance by evaluating your metrics against theirs. This competitive intelligence enables you to recognize opportunities and adjust your plans as needed.
4. See Your Analytics
Check in with your analytics dashboard on a regular basis to assess ongoing performance. Keep a watch out for patterns, spikes and declines in your metrics.
5. Create a Report
Create reports to efficiently share your social media data inside your company. These reports should present your monitoring metrics, insights, and trends in an easy-to-understand and visually appealing format.  
6. Optimise Your Strategy Accordingly
Finally, the ultimate purpose of tracking social media analytics is to maximise the impact of your social media strategy. Make smart changes to your content, publishing schedule, and interaction techniques based on the insights you acquire.
Best Social Media Analytics Tools & Softwares
Hootsuite
Hootsuite has been providing its consumers with an all-in-one solution for everything related to social media since its launch. The tool's flexible feature set makes it easy to manage any brand's or company's social media marketing requirements.
it serves a broad spectrum of users, including solitary entrepreneurs, small enterprises, multinational corporations, and marketing agencies with a huge clientele.
This kind of software makes it possible to accomplish the enormous work of simultaneously managing a consistent social media presence across several social media sites. Hootsuite customers save a tonne of time by smoothly automating many of their regular tasks.
Because of the way Hootsuite is made and designed, larger teams can work together easily on all of their social media accounts.
HubSpot
HubSpot gives you the opportunity to report on social media return on investment and offers a thorough analysis of how social media affects your business's bottom line. Using a single tool, view and compare results across various platforms, campaigns, and publishing times.
Keep an eye on your brand's social media presence to learn how your target audience views your company and its content.
Furthermore, Hubspot Reports give you information about how buyer personas and your audience interact with your videos. Finally, you can use the context and information found in the Contacts in the customer relationship management system to effectively reach certain audiences. 
Sprout Social
Sprout Social is a complete social media management and monitoring solution with a slew of enterprise-level features. Its cross-channel social listening capabilities allow you to do a contextual and qualitative study of themes, hashtags, and keywords.
Its graphic and easy reports can tell you how your content performs across multiple social networks.
This tool includes a number of features that will be quite beneficial to your social media efforts. You can monitor how your paid campaigns are performing across various social networks, which is useful for improving their performance. 
It also provides a consolidated overview of all your social media profiles in one location, making it easy to understand how your business is performing across various platforms.
You may also monitor your team's performance, such as how well they complete work and reply to requests. This allows you to fine-tune your social media approach and ensure that your team works effectively together. The downside of Sprout Social is that it is on a little expensive side.
Frequently Asked Questions
1. What is the main goal of Social Media Analytics?
Social Media Analytics analyses and interprets data from social media platforms, allowing organisations to obtain insights into their online presence, audience behaviour, and marketing strategy performance, that gives them ideas of which direction they are moving towards.
2. What are the most important KPIs for organisations to monitor with Social Media Analytics?
Metrics such as engagement rates, reach, click-through rates, conversion rates, and sentiment analysis are common in social media analytics. These indicators offer a complete picture of social media performance.
3. Is Social Media Analytics more beneficial to certain industries or businesses?
Businesses in a variety of industries can benefit from social media analytics. However, companies that rely significantly on online participation, such as e-commerce, hotels, and entertainment, find it especially useful for understanding client moods and preferences.
Wrapping Up
Businesses can use social media analytics to help them negotiate the online communication landscape. With billions of individuals on social media, simply being present isn't enough. Social media analytics assists businesses in evaluating their performance, comparing it to others, and making required modifications.
It's like having a road map to figure out what works and what doesn't in the world of social media. Different methods of social media analytics provide different insights, allowing businesses to effectively alter their tactics.
Businesses can make educated decisions and prosper in the digital world by picking the proper tools and continuously monitoring their online presence, assuring their success in a landscape driven by online engagement and interaction.